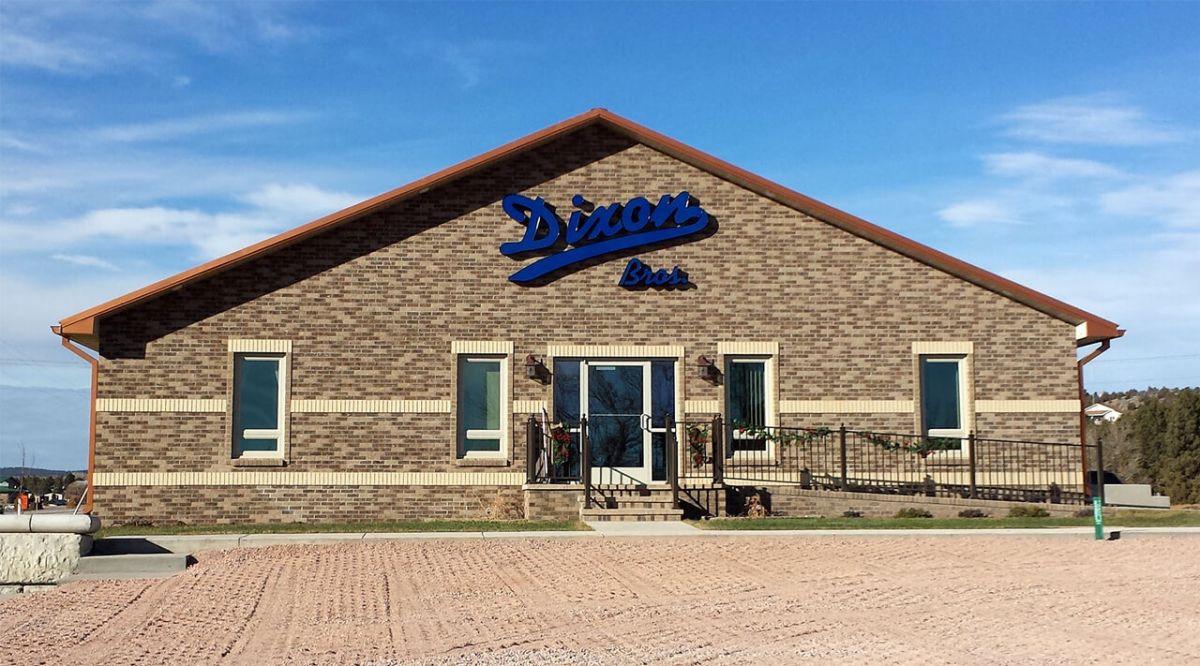 James and Jerry Dixon founded Dixon Bros., Inc. in 1960 with one customer and a truck transporting propane. Both lifelong residents of Weston County, Wyoming, the Dixon brothers understood there was a future in highway transportation of products and built their tanker and dry bulk carrier operation. They incorporated the business in 1961, and operated out of an office in Jim's home. As they grew the business they required more office space. The Dixon brothers moved to a location near the current day Wyoming Refinery. Shortly after with business still growing, they moved once more to the current location about 1 mile east of Newcastle, Wyoming. The most recent expansion of the Newcastle, Wyoming facility saw the enlargement of the shop area, larger parts storage area, drivers' lounge and the building of a new corporate office building.
From those simple beginnings, Dixon Bros., Inc. has grown to become a leader in the bulk carrier industry. With 155 employees, 120 trucks, 300 trailers, and nine terminals, today the Dixon Bros., Inc. service area includes Wyoming, Western South Dakota, Montana, North Dakota, Colorado, Idaho, Western Nebraska, Western Minnesota and into Alberta and Manitoba, Canada.
In 2002, Jim Dixon purchased his brother's share of the business after Jerry passed away. After over 60 years in the trucking industry, Jim has sold his interest in the company to his children. The day to day operations are now shared by his daughter, Suzette Miller, and his son, Jimmy Dixon. Jim is still a daily fixture at the office to lend his moral support and wisdom whenever needed. Jim's grandchildren and son-in-law also serve key positions in the business to ensure Dixon Bros., Inc. future as a family owned and family run business.
Community service has always been a part of the Dixon Bros., Inc. successful business model. Both Jerry and Jim understood customers were the lifeblood of a successful business and enjoyed meeting their customers and spending time in their communities. Jim has served on several boards and committees including: the Weston County Airport Board, the Wyoming Highway Commission, the Wyoming Trucking Association, the Montana Motor Carriers Association, the American Trucking Association, the National Tank Truck Carriers, the Newcastle Masonic Lodge, the Kalif Shrine Center, the First United Methodist Church, and the Security State Bank Board of Directors.
Due to its long-standing quality service and commitment to the community, Dixon Bros., Inc. has received numerous quality and safety awards and recognitions over the past five decades, providing a testament to our core company value. Dixon Bros., Inc. has been recognized on the floor of the Wyoming State Senate, the Wyoming Trucking Association, Montana Trucking Association, South Dakota Trucking Association, North Dakota Trucking Association, and American Truck Historical Society, top safety awards from Great West Casualty Company and by many others which include the National Tank Truck Carriers Association.
Timeliness, safe practices, hard work, dedication, commitment to customers and communities have become the foundation of Dixon Bros., Inc.'s success. As a testament to customer satisfaction, after almost 60 years, Dixon Bros., Inc. still delivers to its first customer.
Dixon Bros., Inc. corporate office and terminal are located in Newcastle, Wyoming. Other terminals are located in Casper, Gillette, and Cheyenne, Wyoming; Rapid City, South Dakota; Billings, and Great Falls, Montana; Mandan, and Fargo, North Dakota; and, Denver, Colorado. Dixon Bros., Inc. also has transports stationed at other strategic locations throughout the region to better service its customers and safely transport gasoline, diesel, ethanol, jet fuel, natural gas, butane, oil, asphalt, cement, and other products.
Customer service is a cornerstone of Dixon Bros., Inc. success:
Our transport trucks are designed with input from DBI to ensure the strongest, lightest, safest trailers possible, developed to haul more product at lower overall costs to our customers;
Safety is of the utmost importance and Dixon Bros., Inc. qualified drives meet and exceed all required training;
Our drivers go above and beyond to assist our customers;
Dixon Bros., Inc. has on call 24-hour dispatch to better serve customers;
Dixon Bros., Inc. has the ability to move trucks and trailers from terminal to terminal to meet customer's needs;
We have maintenance facilities at all terminals to avoid unnecessary delays; and,
Dixon Bros., Inc. is always willing to consider acquiring specialized equipment to handle new projects and contracts.
If you need a trusted partner to safely, professionally and confidentially haul your product, contact Dixon Bros., Inc. corporate headquarters or any branch office for more information.
Corporate Office
5093 US Highway 16
PO Drawer 8
Newcastle, Wyoming 82701
(307)746-2788