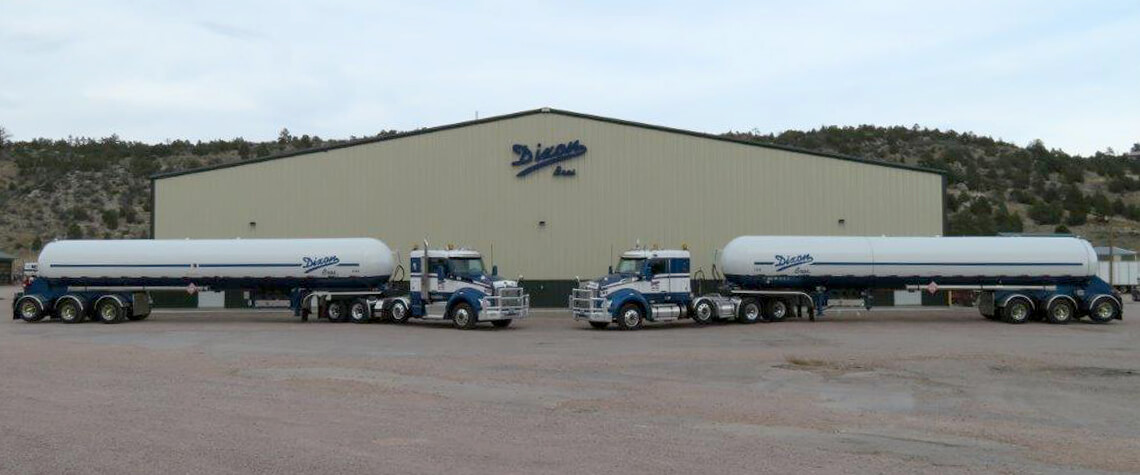 Dixon Bros., Inc. is one of the leading truck companies, with nine terminal locations in the Upper Rocky Mountain region and the Dakotas, operating over 120+ trucks and 300+ trailers to transport the entire spectrum of petroleum products and bulk dry products. Dixon specializes in bulk transport and offers services designed for efficiency and cost savings to the customer.
To keep costs down we find the shortest, safest route which cuts expenses and lowers the freight cost to the consumer. All mileage is calculated with PC Miler. PC Miler is an industry leader in routing, mileage and mapping safe precise routes for each delivery. We also rely on our regional terminal managers who have local knowledge of the routes and monitor weather conditions to ensure safe delivery of your product.
Dixon Bros., Inc's corporate office and first terminal are located in Newcastle, Wyoming.
Other terminals are located in Casper, Wyoming, which also services the Riverton Wyoming area; Gillette, Wyoming, which also services the Sheridan Wyoming area; Cheyenne, Wyoming, which also services the Sidney, Nebraska area; Rapid City, South Dakota, which services western South Dakota and into western Nebraska; Terminals in Billings and Great Falls, Montana that service Montana, the surrounding states and central Canada; Mandan and Fargo, North Dakota terminals that service North Dakota and the surrounding area including Mentor, Minnesota, the underground propane storage facilities near there and into central Canada; and, Denver, Colorado that services Colorado including the greater Denver metropolitan area, Grand Junction and surrounding states. Dixon Bros., Inc. also has transports stationed at other strategic locations throughout the region to better service its customers and safely transport:
Gasoline;
Diesel;
Ethanol;
Jet fuel;
Propane;
Natural gas;
Butane;
Motor oil;
Antifreeze;
Asphalt;
Oil;
Hot oil;
Emulsion;
Ammonium nitrate;
Cement;
Bentonite;
Fly ash; and,
Lime
Fuel Transport Trucks
Dixon Bros., Inc. prides itself on a variety of unique trailers, with the ability to haul more per load than standard trailers. The trailers are designed with input from Dixon Bros., Inc. to ensure they are the lightest, safest trailers available to haul more product and decrease costs to the customers. Dixon Bros., Inc. fuel transport trucks have capacity to haul from 8,500 gallons to 14,100 gallons of gasoline and 7,500 to 12,300 gallons of diesel. Dixon fuel transport trucks have compartments so multiple products can be delivered to your location.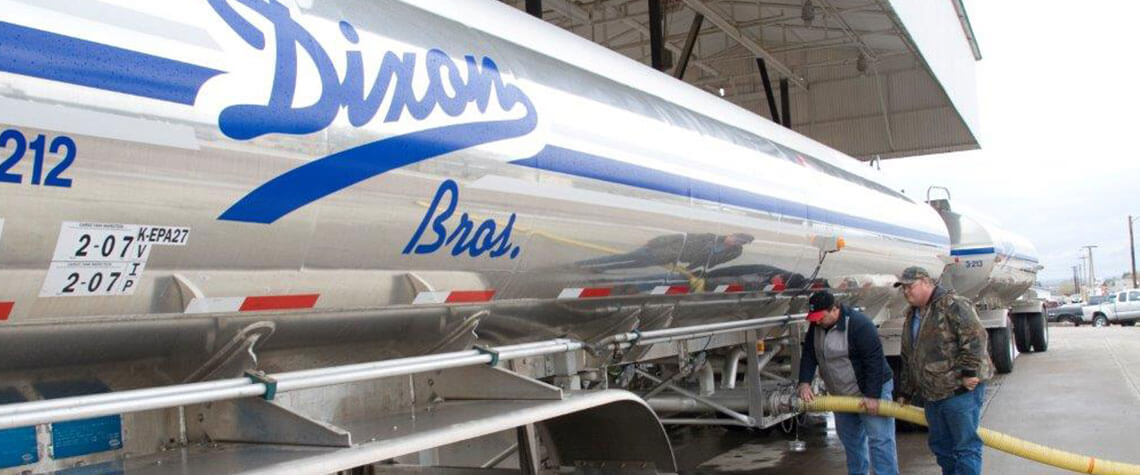 Dedicated Aviation Fuel Trailers

Dedicated aviation fuel trailers guarantee product won't be contaminated by residue from an earlier load. Dixon Bros., Inc.'s dedicated fuel aviation trailers have the capacity to carry up to 12,300 gallons.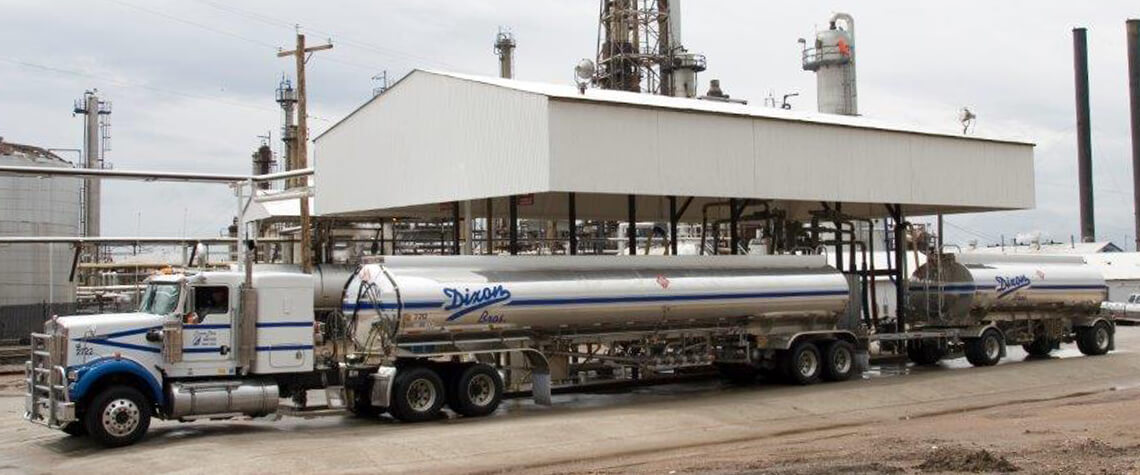 LPG Trailers
Used to haul pressurized products such a liquid propane or liquid butane. Our transports have the capability of hauling up to 14,000 gallons.
Insulated Asphalt Trailers
Insulated asphalt trailers ensure your product is delivered to the job site hot and ready to use. Dixon's insulated asphalt trailers have capacity up to 39 tons.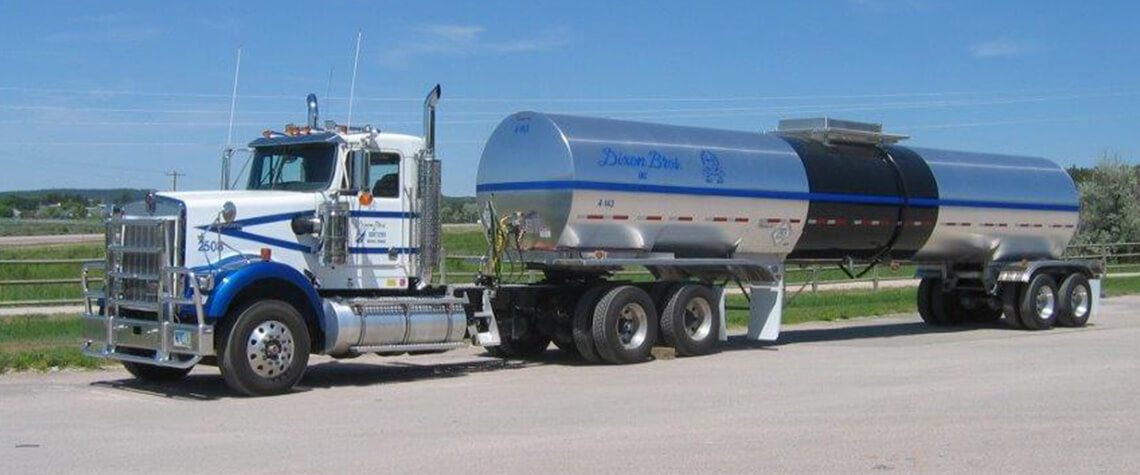 Insulated Chemical Trailers
Insulated chemical and solution trailers ensure your product is delivered to your location hot and ready to use. Dixon's insulated chemical and solution trailers have capacity up to 39 tons.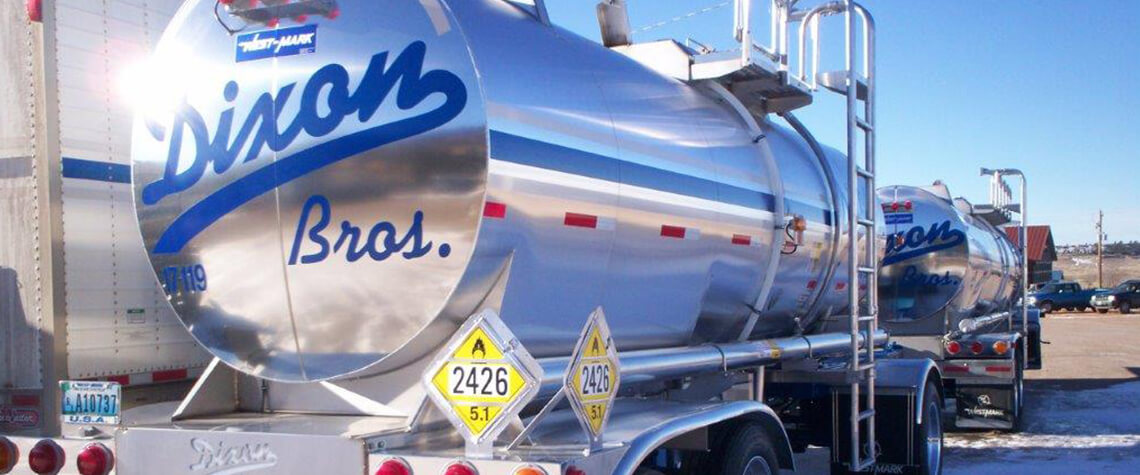 Pneumatic Trailers
Pneumatic trailers allow for the safe and efficient unloading of dry bulk products to the job site. Dixon's pneumatic trailers have a capacity up to 39 tons for cement, bentonite, fly ash, and other dry bulk materials.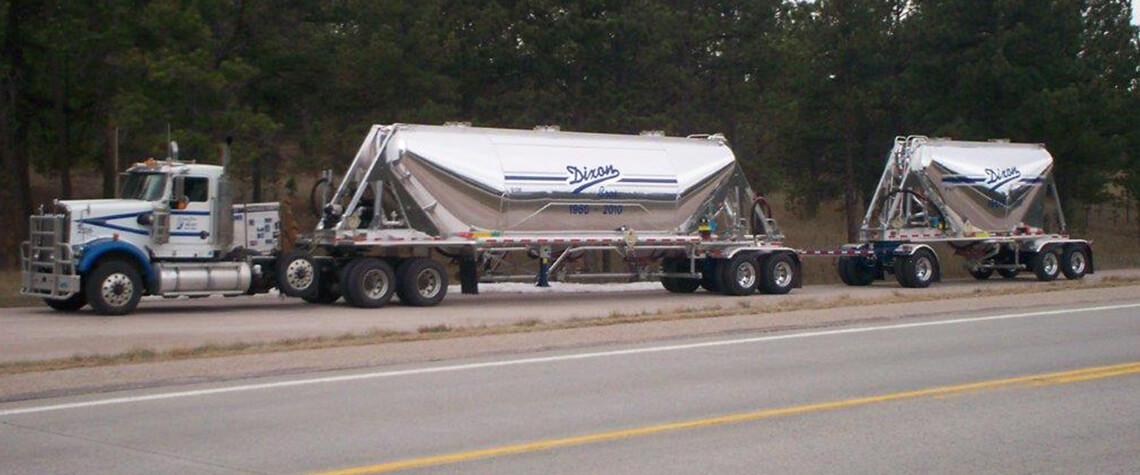 To manage costs and continue to provide the best customer service in the region, Dixon Bros., Inc.'s terminal locations have their own service area for routine maintenance, tire upgrades and minor mechanical repairs. The Newcastle, Wyoming location maintains a repair facility to handle major repairs and updates. Dixon Bros., Inc.'s maintenance program keeps their trucks and trailers in top condition, as well as a tire replacement program to help eliminate tire problems on the road. From the drivers and dispatchers to the terminal managers, service managers and the mechanics, everyone is working as a team to ensure we are operating the safest equipment on the road.
Dixon Bros., Inc. focuses on the customer, and we strive for optimal communication within the organization to ensure we are complying with customers' needs or requests, communicating with customers when the unexpected occurs and deliveries are delayed, and providing advance notice of any price changes or fuel surcharge changes.