Dixon Bros., Inc. Earns First Place Safety Award
– By #Dixon Bros.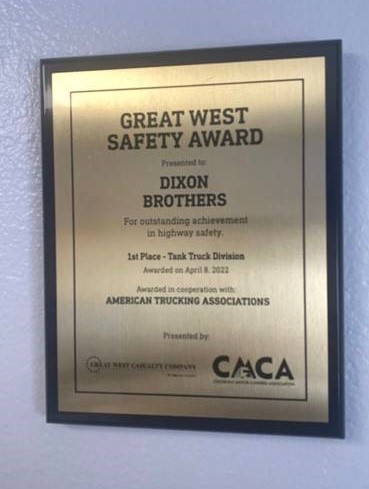 The 2021 Colorado Motor Carriers Association (CMCA) Safety Award Banquet was held April 8, 2022 in Denver Colorado. The Fleet Safety Awards are an annual recognition for carriers operating in the state of Colorado with the best safety record in its class. This is an opportunity to reward the professional efforts of CMCA members who help make Colorado's highways safe. The award also lets the company's drivers know the importance of their contribution to the company's safety accomplishments. The competition stresses the importance of safety, recognizes professionalism and focuses on principals behind safe driving.
Dixon Bros., Inc. was awarded first place for the 2021 Colorado Fleet Safety Awards in the Tank Truck division. In 2021 Dixon Bros., Inc. operated 1,038,869 accident free miles. In the past four years there has been only one accident, a not at falt accident, involving a Dion Bros., Inc. truck. Congratulations to all of our drivers, mechanics, Safety Directors and support personal. Their outstanding efforts throughout the years is what made this award possible.
---
Last Modified: